Friday, February 9th, 2007
This week we launched a new version of www.terminaldesign.com. It's the website of type designer James Montalbano. It's a complete overhaul of the original site we designed in 2001. The site includes e-commerce, a type-tester and an administration system to manage products, orders and users. The site works both as an online store to sell the fonts Terminal Design creates and as a showcase for his custom type design and lettering work.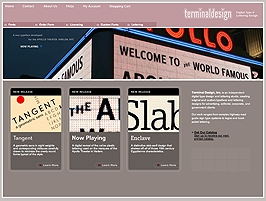 Homepage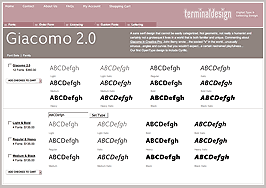 The Font page.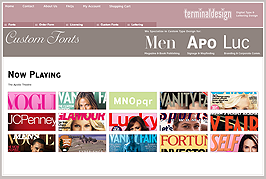 The Custom Fonts page.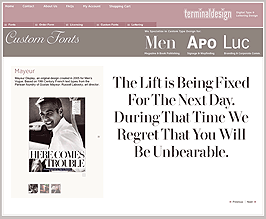 Custom font page for Mayeur.
My objective was to make sure the site felt "typographic" and make the typefaces the stars of the show. We also wanted to reduce the number of clicks needed to get to the type displays. The main "Fonts" dropdown menu became the key element to address both of these concerns. Using this drop down you can preview a sample of each font that's available from the homepage and get a page that they can be purchased from in 1 click. Once you're on a font display page you can test the font by typing a line of your own text in a type-tester. You can also get more detailed information about the character set and what it looks like in text settings on the individual typeface display page. For the entire site the deepest page level is only 2 clicks from the home page. His audience has a wide range from sophisticated designers and design managers to small local sign companies. The HTML techniques we used needed to allow for a wide range of browsers and platforms to see and use the site as it was designed.
The site technology development took full advantage of our suite of website rapid development tools – codename: webBuilder. It includes a full e-commerce system that processes orders, detects fraud and manages the download process of font archives. All orders and communication are tracked by the system and alerts are sent via email whenever an order takes place or needs attention. The content on the site can be managed via the integrated CMS (Content Management System).
Terminal Design was one of our first clients and they remain a favorite client of ours to work for. I have to admit to a passion for typography so the opportunity to design a type designer's site is a real thrill. This is the second version of the site that we've designed and developed. One of the great things about the project is that James is a tremendously talented type designer and his types are a delight to work with.
We have plans to continue to refine and upgrade the site in the future so check back every now and then to see the new stuff. Of course the best updates will be when Terminal Design adds new typefaces to its library.
I can hardly wait!